Dancers' Development Experience – Birmingham
In the beautiful setting of Elmhurst Ballet School, and alongside our Residential Performance Company, we are delighted to offer our Dancers' Development Experience, a five day non-residential course designed to open new doors and give young dancers a chance to develop their artistry and cultivate their creativity.
Working against the backdrop of the main company, participants will develop their skills as company dancers, whilst experiencing first-hand the process of creating a new ballet with NYB Beyond Ballet choreographer Hannah George. which will be performed at Elmhurst Studio Theatre.
This is a wonderful opportunity to experience at close hand NYB's creative team working in the heart of our residential.
Dancers will have the chance to work together as a company, to hone their technical skills, develop their artistry and cultivate their creativity. All of the work will be supported by our Moving Minds,  designed to build confidence and resilience in young performers. The dancers will have the opportunity to take class with Louise Bennett, Performance Company Artistic Director and Amelia O'Hara Performance Company Associate Artistic Director, and will receive personal, written feedback at the end of the course from NYB Creative Director Jo Meredith.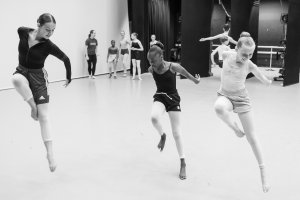 Key Information
A one-week, non-Residential course for 9-14 year olds (minimum grade 3 RAD, or equivalent)
Dates: Monday 14th August 2023 – Friday 18th August, 2023 10am-4pm daily
An end of week sharing, with costumes and lighting, will be held at 3pm on Friday 18th August, for family and friends, at Elmhurst Ballet School Studio Theatre.
Location: Elmhurst Ballet School, Edgbaston, Birmingham, B5 7UH. For details of hotels near Elmhurst Ballet School click here.
Full fee for one week: £450 (a £225 deposit is payable on registration, with the full amount payable by Friday 14 July). Click here for our refund policy.
NYB aims to facilitate a diverse range of applications by removing financial barriers; bursaries are available for applicants from low socio-economic backgrounds that meet our eligibility criteria. For more information click here
Please note, if you are applying for a bursary, please be aware of the earlier deadline of Friday 16th June 2023. This is to allow us time to process bursary applications so we can let families know sooner rather than later if they have been awarded a bursary.
The Dancers' Development Experience will include: 
Daily Company Class 
Company Rehearsals 
An end of week sharing
The opportunity to work with NYB industry professional teachers and choreographers
The time to develop rehearsal skills and etiquette 
The chance to develop drama skills with our in-house drama coach
The space to build confidence and resilience through Moving Minds workshops. 
Opportunity to build performance skills and perform new work in Elmhurst Studio Theatre. 
Personal written feedback from NYB Creative Director at the end of the week.
This one-of-a-kind experience will provide you with a bespoke opportunity to develop your technical skills, providing a snapshot of where your training can lead you, whilst making new friends and giving an insight into the life of the Residential Performance Company at National Youth Ballet.
Photos (c) Sean Purser
Dancers' Development Experience Participant Feedback:
'I felt that I learned lots of new skills including being more reflective and focusing on mental health as a dancer and also how to work successfully as a company.'
'I learned to be more confident in my creativity and moving minds really had an impact on me.'